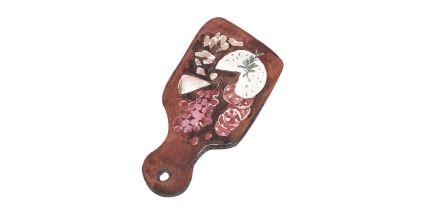 Artisan Charcuterie Boards
with Local Pickup And Delivery
Evento Boards - Starting at $275
A versatile modular system that allows you to build a splendid charcuterie appetizer grazing experience for gatherings (10 to 100 people) in a cost-effective way. Unlike our boxes, which are designed for smaller gatherings and do not have a pine serving board, the  EVENTO  comes with a returnable serving board (14" x 19") allowing you to customize your table to have more or less meat, cheese, veg, bread and crackers by selecting those pre-designed boards. You can of course, as with all our products, let us know of any dietary restrictions. Short on time? We also offer a setup service which takes all the worry off getting the display ready. Let us know and we come to your venue and beautifully arrange the grazing boards.
The Christmas Duo Gift Voucher + Live edge Cutting Board
This might be just the gift you were looking for.
A Duo Box Gift Voucher  + a Canadian live edge walnut handcrafted Charcuterie Board from
Wood By Taylor
a local wood artisan.
Thoughtfully wrapped with the option for Delivery.
The board is approximately 12″ x 12″
All our boards contain the finest local gourmet cured meats made in house at Meuwly's from free range pork and grass-fed beef. Our cheeses comes from a variety of suppliers including a few local producers Lakeside Farm and Silvan Star Cheese and, from further away, boutique French cheeses from Quebec and France. Exquisite condiments and preserves are house made. Locally sourced (as much as possible) seasonal fruit and veg from local growers like Prairie Gardens Farm.