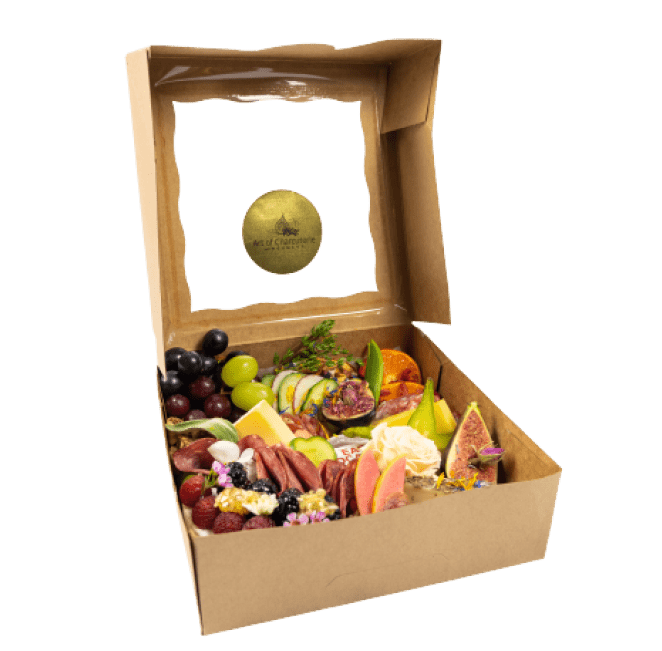 Artisan Charcuterie Boxes
Local Pickup And Delivery
Choose from a variety of neatly packaged charcuterie boxes serving 1 – 25 people for a convenient and delicious assortment of charcuterie on the go.
The Duo Gift Voucher + Live edge Cutting Board
This might be just the gift you were looking for.
A Duo Box Gift Voucher  + a Canadian live edge walnut handcrafted Charcuterie Board from
Wood By Taylor
a local wood artisan.
Thoughtfully wrapped with the option for Delivery.
The board is approximately 12″ x 12″
We process your request and create a personalized e-voucher with the recipients name. We then send that e-voucher to you to forward on to the recipient.
The Uno – $18 each – Minimum 6 per order
A smaller rendition for single serving occasions. Ideal for larger gatherings needing an appetizer. Minimum order 6
The traveller snack bowl is ideal for camping or a road trip. Packed with local goodness to keep you satisfied enroute.
For each their very own. Our individually packaged charcuterie experience is a perfect companion for one person.
Indulge in something special with a friend. Our charcuterie experience for two is perfect for an intimate night at home together, an outdoor picnic or virtual event.
Explore the charcuterie experience with a few close friends. The trinity box will generously satisfy three people.
Excite your family and friends with a charcuterie sharing experience. Our Penta Box is perfect for four to five people.
Delight some friends, a family or maybe even treat yourself with this wooden box charcuterie offer. Four to six people can enjoy the surprises within.
Invite an intimate and luxurious gathering of up to six people with our beautifully crafted Lux Box.
Easily satisfy up to 8 friends or family with our Octo box. Also consider this one as an appetizer setting for a larger group.
Feast together with 10-12 people. The Decade box will surely be the center of your next small gathering.
This eye-catchingly bold, bright, and colorful presentation will captivate and delight 20-25 people at your next gathering.